Research on MBMS Technology Based on TD-SCDMA
introduction

Multimedia Broadcasting Service (MBMS) is a mobile TV technology solution based on UMTS (through mobile communication system) proposed by 3GPP, the purpose is to provide a more effective way for WCDMA and TD-SCDMA networks in order to multicast or broadcast multimedia information Transfer to each UMTS terminal. Since 2004, many operators have launched this service. With the passage of time and the approaching of the 2008 Beijing Olympic Games, domestic TD-SCDMA mobile phone research and development companies (such as Chongxin Branch) began to develop based on the existing TD -The overall technical solution of the multimedia broadcasting service (TD-MBMS) of the SCDMA system.

Hand-held TV technology is mainly divided into three categories: from terrestrial digital broadcasting technology, satellite transmission technology and mobile network technology. The first type of technology is represented by DVB-H in Europe, T-DMB in South Korea, ISDB-T in Japan, MediaFlo in the United States, and CMMB in China. It is based on terrestrial broadcast networks and is loosely coupled or relatively independent from mobile networks. Networking; the second type of technology is represented by S-DMB adopted by South Korea, Japan and some European countries. The realization is based on satellite transmission, supplemented by terrestrial broadcasting networks, combined with mobile networks or relatively independent networking; the third type The technology is represented by 3GPP's MBMS and 3GPP2's BCMCS. The implementation is based on the mobile network and cannot be independently networked relative to the mobile network.

The high bandwidth and sudden multi-user demands of mobile phone TV services are inconsistent with the serious shortage of bandwidth and capacity resources of the mobile network itself. Therefore, it is not feasible to provide large-scale commercial services for mobile TV in a peer-to-peer manner, and mobile TV technology using broadcast methods will be an inevitable trend in the development of this business. 1 Introduction of MBMS technology based on TD-SCDMA

1.1 MBMS overall architecture

MBMS (mulTImedia broADCast mulTIcast serv-ice) is a multimedia broadcast multicast function defined by 3GPP R6. MBMS provides 2 methods: broadcast and multicast. MBMS can not only realize message-type multicast and broadcast at low rate in plain text, but also realize multicast and broadcast of high-speed multimedia services.

Multicast and broadcast services MBMS is based on the WCDMA / GSM packet network. By adding some new functional entities, such as the broadcast multicast service center BM-SC, the existing packet domain functional entities such as SG-SN, GGSN, RNC and UE, etc. The MBMS function is added, and a new logical shared channel is defined to achieve air interface resource sharing. As shown in Figure 1, the main changes to the original network are: the addition of BM-SC network elements, and the functional upgrade of related network elements in the existing packet domain to support MBMS unique interface functions (such as Gmb) and unique channels (such as MICH, MTCH / MCCH / MSCH), unique physical layer process (FACH channel selective merge, PTM and PTP switching) and unique business process (such as subscription), the only new interface here is Gmb interface.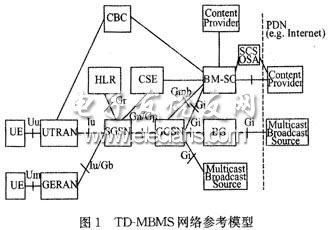 1.2 Technical advantages of MBMS

The MBMS defined in the R6 version of 3GPP refers to a point-to-multipoint (ptm) service where a data source sends data to multiple users in a wireless network, and network resource sharing is achieved without changing the network structure. In addition to mobile core network and access network resources, MBMS can also share more tight air interface resources to improve the utilization of wireless resources. The advantage of MBMS is that it can not only realize the low-rate distress-free multicast and broadcast of plain text, but also the multicast and broadcast of high-rate multimedia data services, thereby making up for the fact that IP multicast technology cannot allow multiple mobile users to share mobile networks. Insufficient resources.

In terms of terminals, MBMS still inherits the existing 3GPP standards to the maximum extent. While the technologies of terminal power consumption, storage, multimedia processing, and display are improved, it is only the enhancement of the original baseband processing function. Therefore, MBMS terminals carrying broadband multimedia services maintain a good uniformity with existing terminals.

In terms of bandwidth, MBMS can use the maximum rate of 256 Kbit / s for downloading and streaming media transmission. In terms of interaction, MBMS itself does not define a special upstream channel, but it can use the existing upstream control channel for business subscriptions, business joining and other business control processes, and at the same time use the upstream business channel to implement some interactive services that cooperate with downstream broadcast / multicast .

In terms of content, MBMS provides a point-to-multipoint multimedia transmission mechanism. The resource consumption has nothing to do with the increase in the number of users, thus finding the fundamental to save the very tight air interface resources and Iub interface transmission resources of the 3G network and avoid the disadvantages of mobile network capacity Solutions. The greater the number of users, the more obvious the advantages of MBMS in terms of capacity and cost. When there are few multicast users or no multicast service users, the network can flexibly allocate dedicated channels or close multicast service channels for these users. These The unique and efficient resource management technology of the mobile network makes MBMS icing on the cake.
2 The main development of MBMS technology based on TD-SCDMA in the physical layer

PLC Splitters (Planar Lightwave Circuit) are single mode splitters with an even split ratio from one input fiber to multiple output fibers. Fiber Optic PLC Splitter counts are: 1x4, 1x8, 1x16, 1x32,1x64 etc. Fiber PLC Splitter is available with terminated or unterminated connectors as per your needs. Foclink Plc Fiber Optic Splitter family features the whole series of 1 x N and 2 x N splitter with boxes and modules. All PLC Optical Splitter provide excellent performance and reliability that meet GR-1221-CORE and GR-1209-CORE specifications.Foclink,a reliable supplier of fiber PLC Splitter is always beside u 7*24.

PLC Splitter

PLC Splitter,Fiber Optic PLC Splitter,Fiber PLC Splitter,Optical PLC Splitter

Foclink Co., Ltd , https://www.scfiberpigtail.com