Jingke Electronics' first half of 2016
In the first half of 2016, Guangdong Jingke Electronics made a full-scale effort and created many brilliant achievements. Among them, COB + module light source, LB backlight, smart street lamp as the strategic product of the company in the field of LED, has cooperated with TCL, Skyworth, Changhong and other manufacturers to establish the position of Jingke in the LED market.

Jinke Electronics' first half of 2016:

January

The company launched a new product: "COB + module light source". The product integrates thyristor dimming components, IC components and temperature control protection on the traditional COB light source substrate. The external rectifier circuit can realize 220V mains direct input and support 180-260V wide voltage amplitude modulation. The module light source adopts ceramic substrate, has good heat dissipation performance, and is resistant to high voltage test. It can pass the harsh reliability test in Europe and has stable quality.

March

At the 2016 TCL Multimedia Global Supplier Conference, the company won the Quality Excellence Award and the Qualified Supplier title, which is an important recognition for the long-term strategic cooperation between Jingke and TCL Group. It is understood that as early as 2010, Jingke Electronics and TCL began the research and development cooperation of LED backlights. Since then, Jinke Electronics LB has achieved mass production and volume supply, and the two sides have started formal cooperation. The cooperation with TCL Group, whether it is the cooperation of products or the joint development of the market, is not only a simple business cooperation, but also a process of learning from each other in technology, management, channels and other aspects.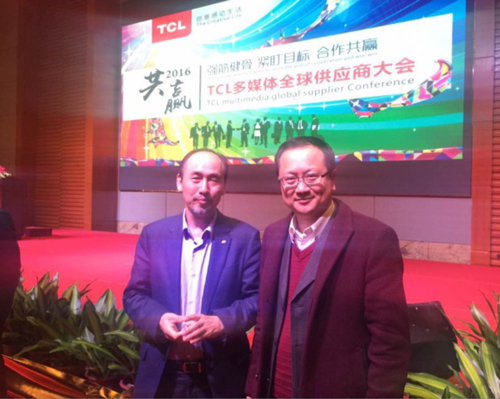 TCL Group President Bo Lianming (left) and Jingke Electronics President Xiao Guowei (right) took a group photo at the meeting

April

Jingke Electronics Co., Ltd. was officially listed on the national share transfer system for public transfer on April 29, 2016.

June

At the Guangzhou International Lighting Exhibition, the company launched a self-developed COB series product with intellectual property rights. The product is based on its mature flip-chip technology, the latest results of the corresponding optimization of the needs of different application groups. Super high-quality COB, color rendering index of 95 or more, close to 100% restore color authenticity, can meet the color reduction requirements of different scenes, suitable for high-end, professional lighting. The product attracted a large number of visitors, reflecting the concern and demand of COB customers in the South China lighting industry.

On June 16, Guangdong Jingke Electronics Co., Ltd. held a ringing ceremony at the a€?National Small and Medium Enterprise Share Transfer Systema€? (namely a€?New Third Boarda€?) in Beijing.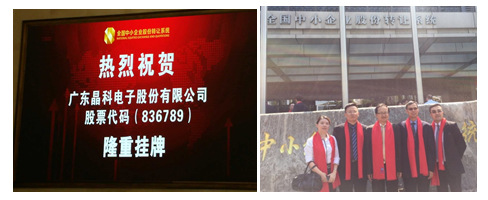 August

Accompanied by Secretary Ren Xuefeng and Mayor Wen Guohui, Governor Zhu Xiaodan and his entourage visited Guangdong Jingke Electronics Co., Ltd. to investigate the development status of science and technology innovation enterprises.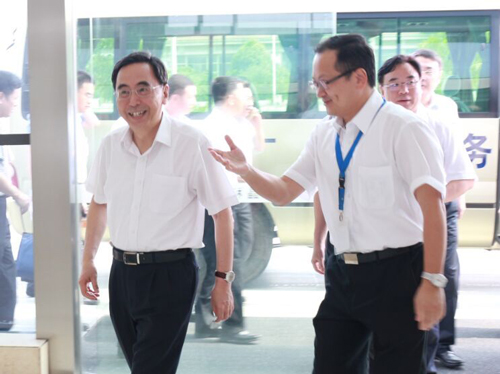 Governor Zhu Xiaodan (left) and Dr. Xiao Guowei (right)




Lift Elevator,Mrl Passenger Lift,Goods Passenger Lifts,Vvvf Drive Passenger Elevator

XI'AN TYPICAL ELEVATOR CO., LTD , https://www.chinaxiantypical.com