Implementation of video call function based on STi7105
Electronic enthusiast network: This article is based on the STI7105 HD set-top box, using the SIP protocol, as far as possible to use the existing codec capabilities of the HD interactive set-top box to achieve the video call function. This solution makes full use of the existing modules of the set-top box and the HFC network, but the compression of voice and video is not high. With the development of science and technology, especially multimedia communication technology, the traditional voice telephone model is increasingly unable to meet the needs of modern people for information exchange. As multimedia data such as images, audio, and video have gradually become the main media expression in the field of information processing, compared with traditional voice telephony, video telephony can attract users more, and can effectively use network resources, greatly reducing costs. The cable TV network has already realized video and data services in business. In order to adapt to China's vigorous promotion of the "three network integration" pace, it must be able to realize communication services, so video calling is a good choice.

1 STI7105 chip introduction

STI7105 is a high-performance high-definition digital TV set-top box decoder chip produced by STMicroelectronics. It uses advanced semiconductor production technology and perfect optimized design to improve the performance of each functional module, increase high-speed data interface, reduce power consumption, and reduce system The overall material cost. STI7105 is a SoC chip with a wide range of applications, which can be used for cable high-definition digital TV set-top boxes, satellite high-definition digital TV set-top boxes, IPTV set-top boxes, multimedia handheld devices, etc. The structure diagram of STi7105 chip is shown in Figure 1.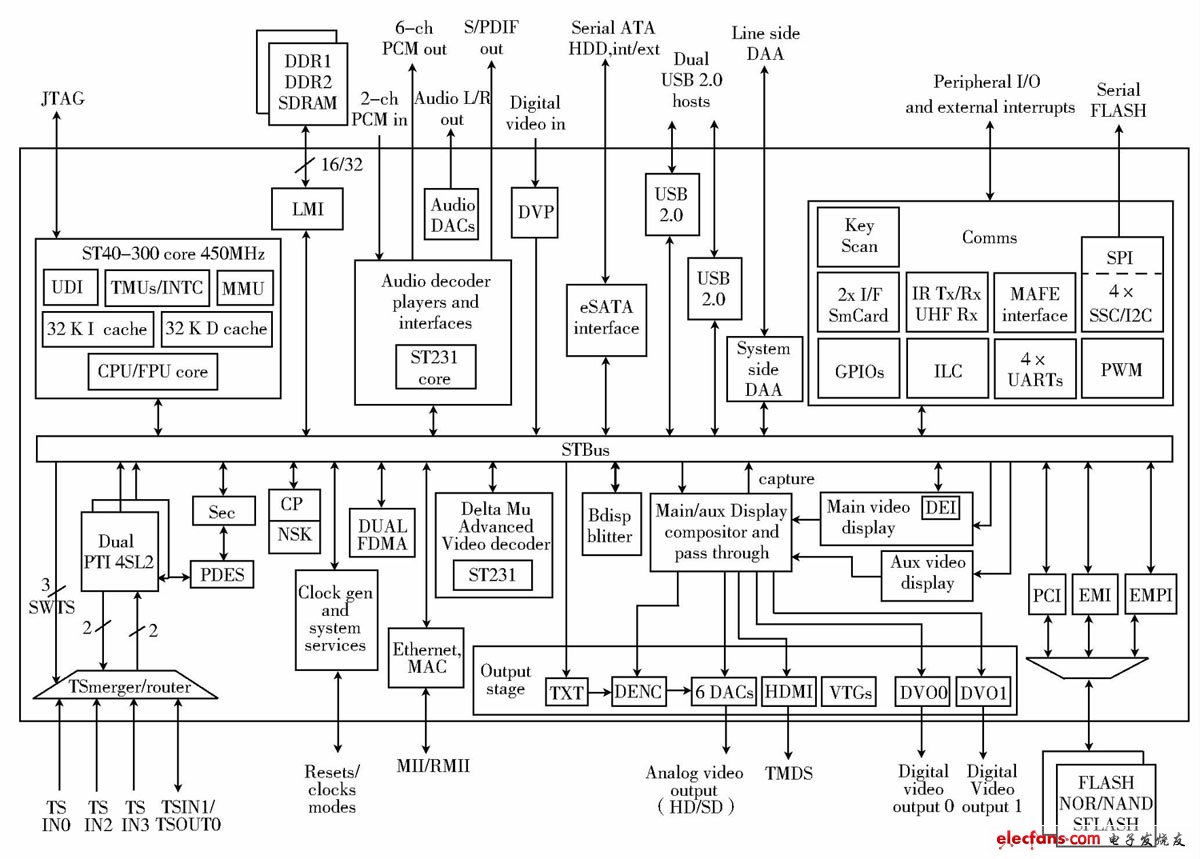 Figure 1 STi7105 schematic diagram

The STi7105 chip integrates a high-performance ST40 application processor with a main frequency of up to 450MHz and real-time processing and computing power of more than 800DMIPS. In addition, the chip also integrates two real-time computing accelerators, which can also be used for processing of various computing requirements. . This processing capability can not only meet the requirements of high-definition set-top boxes, but also fully meet the design requirements of home multimedia centers.

STi7105's TS stream input processing module can support 4 TS stream input and 1 TS stream output. This processing module can simultaneously process and decompose multiple code streams for simultaneous recording, code stream playback, picture-in-picture and other functions. These streams can come from traditional digital TV broadcast channels, or from IP channels such as Cable Modem, EoC, Ethernet, etc. This module can provide users with flexible product development modes.

STi7105 integrates a high-performance video and audio decoder. Its flexible decoding architecture can meet the decoding requirements of various existing video and audio encoding and compression formats. It can also support these standards through software upgrades. In terms of video encoding and decoding, it can support H.264HP@HL4.1, MPEG-2 MP @ HL, VC-1 MP @ HL, AP @ L3, MPEG-4 P2 ASP @ L5, DiVx format, RM, RMVB, AVS and other video formats, the decoder can be used for PVR, picture-in-picture functions, support 1080p format, built-in image noise reduction processing, enhanced optimized post-processing circuit can bring users unprecedented beautiful images. In terms of audio codec, it can support MPEG-1 layer I / II, MP3, MPEG-2 layer II, AC-3 Dolby Digital, DD +, AAC, AAC + SBR, etc., as well as Dolby, DTS new algorithms And China DRA audio standard.

In addition to the video and audio decoding function, STi7105 also has certain video and audio encoding capabilities, and supports DivX, XviD, and H.263 encoding formats.

We can follow customers' drawings or design to make Customized wire harness for various industries: game machine, ATM, POS machine, etc.


Customized wire assembly with AVL components from original manufactures. Also harness with local equivalent componets are workable with short L/T and competitive price, also flexible MOQ.

Medical Wire Assemblies,Medical Alligator Clip Cable,Medical Diagnostic Cable,Medical Cable Assembly,Medical Wire Harness,Medical Cable

ETOP WIREHARNESS LIMITED , https://www.etopwireharness.com